Introducing Joolz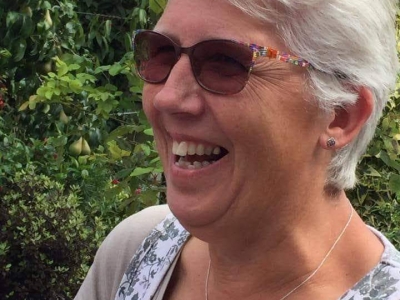 Joolz is well known on the local folk scene in North Yorkshire and the North East as an accomplished singer song writer of contemporary folk songs.
She has also made a name for herself as a percussionist, playing bodhran and bass cajon (nicknamed Doris).
Percussion is her first love. She started playing drums in the late 60's early 70's and went on to play in an all girl rock and roll band.
Joolz is a comparative new comer to the folk scene. In 2003 she taught herself to play guitar and started attending folk clubs for the first time. The first one being her local, Burneston Folk Club, which she used to help run with her husband Glyn. She also enjoys playing as a backing musician with friends and other artists along the way. Over the last couple of years, thanks to her husband Glyn, a tenor ukelele has been added to her repertoire.
She has written many fine songs since then and is now in demand as a session musician supporting several local performers at recordings and live performances.
Joolz has had successful partnerships with Blind summat, FiddLynManDoris and The Rebekah Findlay Trio.
She now performs solo and as a duo with Iain Glover.